Your Trusted Hotline Cleaning Services
Has your fast food establishment been running at full steam? Have you or your staff neglected to do the proper cleaning of your hotline equipment? Is the notion of a possible health inspector visit making you feel worried and unprepared? If you answered yes to any of these questions above, it might be time to look into a professional hotline cleaning for your business. Having your fryers, griddles, or stove tops caked in burnt debris can not only cause your business to shut down, but there is a higher risk that the debris is allowing contaminants and COVID-19 particles to exist and grow. In addition, an unclean kitchen has a higher risk of inviting in pests and rodents into the facility. With everything happening in the world right now, the last thing you would want are your doors closing because you didn't properly clean your equipment.
Safe Kitchens, the most successful commercial kitchen cleaning and compliance company in California, provides complete and thorough hotline cleaning services to kitchens across the entire United States! With Safe Kitchens fast food cleaning services, our knowledgeable cleaning technicians will meticulously clean all hot line equipment including grills, ranges, ovens, fryers and more, systematically clean, polish, and seal floors of all type, clean and polish stainless steel, and cleanse external hoods and filters. Our team uses state of the art electrostatic sprayers and battery powered handheld fogging machines to disinfect both facilities and HVAC ducts. Here at Safe Kitchens, we continue to use the Hygiena ATP testing meter to verify cleaning outcomes reach a safe and healthy level for your staff and clientele. We use Probiotic Bio Detergents, or in other words, "good bacteria," as a way for fighting biology with biology and keeping everyone who enters your restaurant safe.
Upon completion of the hotline cleaning, our team will then provide complete reporting and documentation for your peace of mind. Our report will outline the cleaning protocols followed, chemical safety data sheets of chemicals and detergents used during the hotline cleaning, ATP readings before and after cleaning services, and before and after pictures. To see just how meticulous and thorough we clean our client's hotline equipment, check out these before and after's below.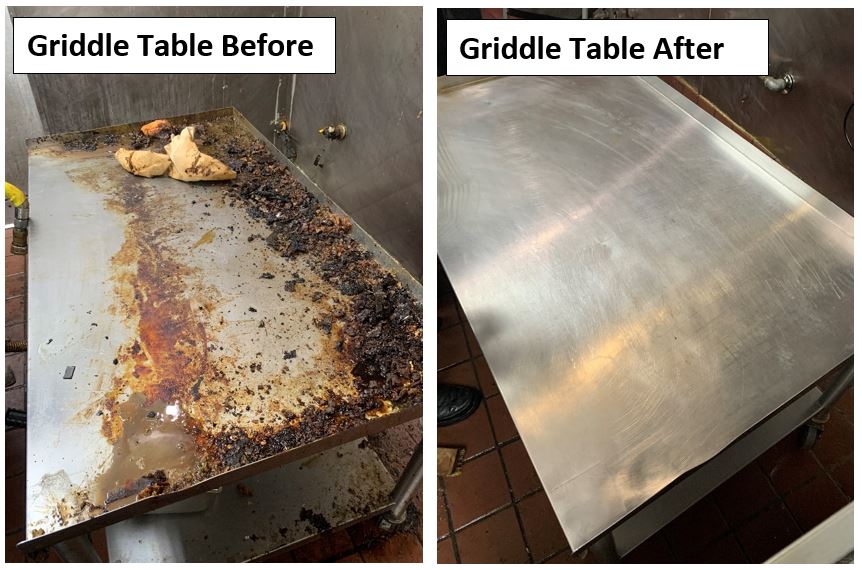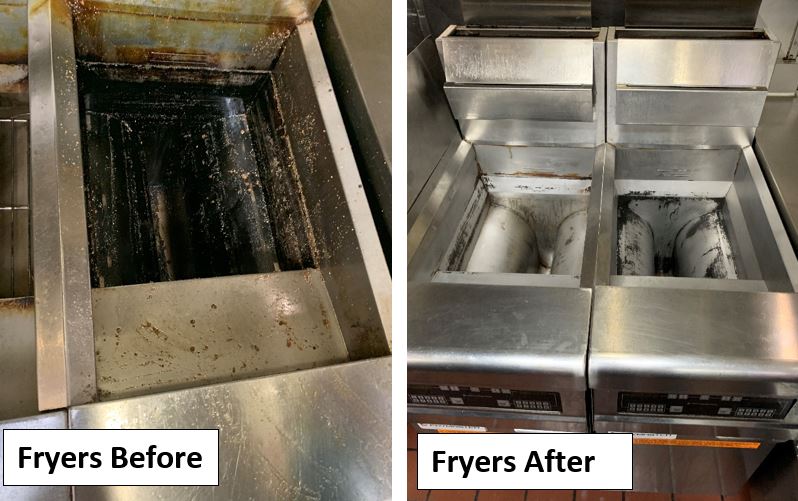 [ emergency cleaning ]
Before & After Hotline Cleaning
Before & After Hotline Cleaning
As you can tell by these photos, our team will painstakingly clean your equipment and bring everything back to new. We assure that you will be satisfied upon completion of our hotline cleaning. It is important to note that with proper and regular cleanings in your kitchen, you can prevent potential fires, keep your employees motivated to maintain better daily cleaning, keep you staff healthy in their working environment, and provide the upmost quality in the food coming out of your kitchen!
Safe Kitchens promises to proactively document and deliver defendable programs so your organization will be able to properly operate and invite employees and the public back into their facilities. We service business in and around the Los Angeles area, including San Diego, Orange County, Santa Barbara, Ventura County, San Francisco, and now anywhere in the country. Our one-time deep hotline cleaning will get your kitchen up to standard and regular services to maintain that level of cleanliness! If you are interested in scheduling a cleaning service, or would like to learn even more about what Safe Kitchen offers, give us a call